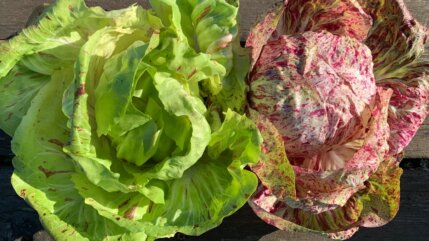 A quick reminder that pro-rated memberships in our Winter/Spring CSA – starting now through mid-April – are still available!
Hope you had a nice Thanksgiving! It's feeling like a real Oregon winter day today and that's fine with me – we need the rain and the cold weather makes all the crops even sweeter. Carrots are getting even more delicious if that is possible ????
A few ideas for the veggies in our share:
Radicchio: I always have to mention my favorite Insalata Nostrana. This is Cathy Whim's caesar-like salad made with radicchio instead of romaine. You'll find chioggia or castelfranco – both of which would be delicious in the salad. They can also be sautéed and used in soup, over pasta and in risotto. Nice roasted on top of pizza or focaccia too!
Purple Winter Radish: This doesn't have the spicy heat of summer radish. Insead, it combines the flavor of mild daikon with the sweetness of winter which makes it tasty raw or roasted. Also tasty on top of ramen.
Brussel Sprouts: Just pop the sprouts off the stalk and peel a few layers off and they'll be good to go. Sprouts are great roasted or shaved thin into salad. And I always have to include this super simple recipe for them with Gnocchi & Pesto.
SOME OF THE YUM IN THIS WEEK'S SHARE:
GARLIC
PURPLE RADISH
BRUSSELS SPROUTS
TUFFY ACORN SQUASH
DESIREE RED POTATOES
CHIOGGIA RADCCHIO
SWEET CARROTS
LEEKSS
Does this sound delicious, but you're not a shareholder? That's an easy problem to solve! Come on board for our amazing Winter/Spring CSA on a prorated basis at one of our two pickup locations (SE Portland or Lake Oswego) and take home fresh, local, sustainably-farmed produce like this every other week!