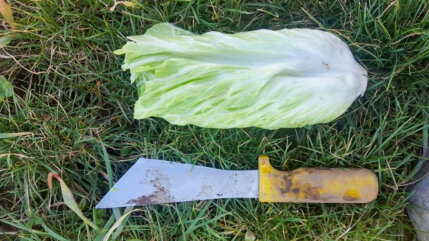 Happy New Year!! I'm happy to report that most of the farm is looking good after the holiday storms. The wind somehow turned our tent at the SE pickup completely upside down?! But the crew was able to get it back up & repaired so we'll be (mostly) under cover tonite – go team!! Happily, the veggies fared much better than the tent. It's especially nice to have some fresh greens this time of year. You'll see hardy chicory & cabbage varieties in the share today and they are delicious in salads or soups & stews.
SOME OF THE WONDERFUL IN THIS WEEK'S SHARE:
GARLIC
BLACK FUTSU
WHITE LUTZ BEETS
SWEET WINTER CARROTS
PAN DI ZUCCHERO CHICORY
ROSSO DI LUCCA BEANS
CELERY ROOT
CABBAGE
LEEKS
A few ideas for those incredi-veggies:
Black Futsu Winter Squash: Is a relatively new addition to our winter squash lineup and we love it! It is traditionally used for tempura. The skins are quite thin and can be left on when serving. For a fun presentation, slice them into wedges (imagine an orange slice) and roast with salt and olive oil.
Winter Cabbage: Only a few special varieties are hardy enough to keep growing through our wet and cold winters. Some are purple on the outside, some are more savoyed, but all are delicious and slightly less dense than summer cabbage. They are great for slaw or can be cooked. I really like them mixed with other veggies in a fritter. One of my favorite variations on this theme is Okonomiyaki – a delicious japanese fritter that features cabbage. One of my other go to recipes for cabbage is this simple, but delicious, Roasted Cabbage Wedges.
Celeriac, aka Celery Root: This gnarly root has a mild celery flavor – not surprising since it is cousin to the more familiar green celery stalks. Use it grated in one of my favorite Celery Root Remoulade salad or roasted with other root veggies or boiled and masted with potatoes.
If all this sounds too delicious to be true, I hope you'll consider joining our CSA for the rest of the season, or trying a single pickup to dip a toe in: