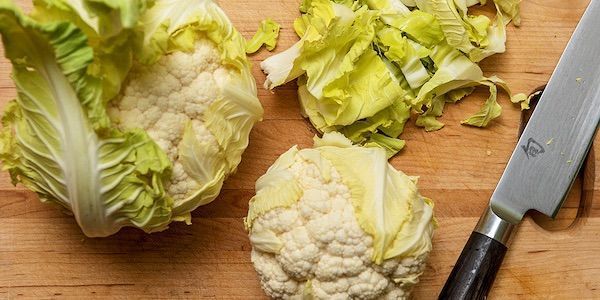 This week you'll receive the last of our beautiful little heads of "winter" cauliflower. This crop is planted in July, hangs out growing slowly all through the fall and winter, then produces a tightly wrapped perfectly white head in the late spring. It takes a special variety of cauliflower to do this and there are only a few that work this time of year, but we are very happy they do. Harvest starts in late April and the heads often last all the way until June!! Nothing beats fresh spring cauliflower for salad, soup or roasting.
Here are some highlights from today's CSA box…
Walla Spring & Red Onions: These are fresh from the field and have not started to dry down for storage. The bulb is often smaller and the delicious greens are included. Use the tops like you would a scallion. 
Chard: The leaves and stems are strikingly beautiful! Chop the stems first since they take a little longer to sauté. Then once the stems are tender add the chopped leaves. I often use chard in pasta, in scrambled eggs or frittata, and as a substitute for cooked spinach in almost any recipe. You'll find a bushel of recipes for it at Cook With What You Have.
Microgreens are an amazing little treat! Sprinkle a few on salad, soup or sandwiches. They add a fresh & delicious sparkle to any dish. Radish are a bit spicy. Peas are mild and sweet.
---
If this sounds delicious to you and you're not already a member of our Farm CSA, well, let's take care of that! Pro-rated, rest-of-season memberships are still available, as are single pickup "CSA Sampler" options to make trying us out easy. Come on down!