This week (Feb 1) in our CSA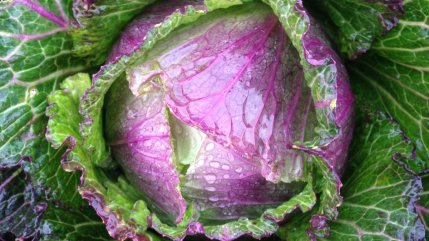 We've had quite a few cold & sunny days the last few weeks. This is perfect weather for sweetening up the winter crops like chicory and cabbage. When the temperatures drop, many hardy vegetables convert the starches in their cells to simple sugars. This acts as an antifreeze protecting the plants so that they aren't damaged by cold weather. It also makes them extra sweet & tasty!
Here are some highlights from today's CSA box…
We are so lucky to be able to grow these amazing winter cabbages!! I know that some people think of cabbage as a boring vegetable, but there are only a few exceptional varieties that will grow for us in the winter and be ready to harvest in February & March. Early in my farming career, we had to order the seeds from Europe! American seed companies thought the market was too small so they decided not to carry them. Happily, that has changed and with so much interest in winter farming many of our favorite seed companies keep them in stock. For our shareholders, lots of recipes for cabbage – including Caldo Verde – at Cook With What You Have.
The Rosso di Lucca dry beans in your share this week are a beautiful rosy red, oblong bean with dark stripes and speckles. Said by growers in Italy to have a rich delicious flavor, pairing well with other strong flavors such as garlic, sage and rich fruity olive oil. Seed Ambassador Kayla Preece collected this variety in 2006 from Agricultori Custodi, a seed preservation group in Tuscany, Italy. They are also in the Slow Food arc of Taste! They're versatile and delicious in anything from Red Beans & Rice to Pasta e Fagioli.
The Sugarloaf Chicory is sweetened by the frost! Try it in this Hearty Salad or carmelized with beans or greens. Want to learn more about all things chicory? Check out this Radicchio Zine (PDF) from our friends at the Culinary Breeding Network. It includes much history, trivia and my favorite radicchio salad recipe Insalata Nostrana (pg 20).
SOME OF THE SUBLIME IN THIS WEEK'S SHARE:
BEETS
CABBAGE
YELLOW ONIONS
BUTTERNUT SQUASH
SUGARLOAF CHIOGGIA
ROSSA DI LUCCA BEANS
BLACK TUSCAN KALE
RED SHALLOTS
CELERIAC
LEEKS
Does this sound delicious, but you're not a shareholder? That's an easy problem to solve! Come on board for our amazing Winter/Spring CSA on a prorated basis at one of our two pickup locations (SE Portland or Lake Oswego) and take home fresh, local, sustainably-farmed produce like this every other week!