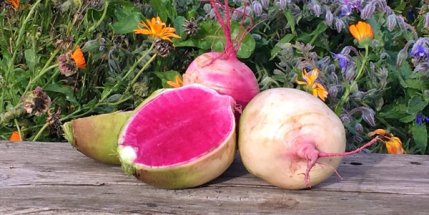 Its been a foggy January week! The ground is still pretty wet, but we appreciate that it hasn't been raining much as that makes it easier to harvest all those delicious root crops.
Here are some highlights from today's CSA box:
The jewel toned winter radishes (pic above) are beautiful & tasty. You'll find a mix in your share that may include purple bravo, red watermelon radish, and the green & white alpine variety. They are not as hot as spring radishes and the bright color makes them fun to use raw in salad or with dip. They're also good roasted. Lots of recipes at Cook With What You Have, where shareholders have a free membership.
The Marinanta is a variegata di chioggia chicory head with beautiful color that can be used for salad, or sautéed. Try it carmelized with beans or greens. Want to learn more about all things chicory? Check out this Radicchio Zine (PDF) from our friends at the Culinary Breeding Network. It includes much history, trivia and my favorite radicchio salad recipe Insalata Nostrana (pg 20).
SOME OF THE SUBLIME IN THIS WEEK'S SHARE:
CARROTS
YELLOW ONIONS
BUTTERNUT SQUASH
VARIEGATA DI CHIOGGIA
YELLOW BINTJE POTATOES
AMISH BUTTER POPCORN
WINTER RADISH MIX
TUSCAN KALE
LEEKS
Does this sound delicious, but you're not a shareholder? That's an easy problem to solve! Come on board for our amazing Winter/Spring CSA on a prorated basis at one of our two pickup locations (SE Portland or Lake Oswego) and take home fresh, local, sustainably-farmed produce like this every other week!