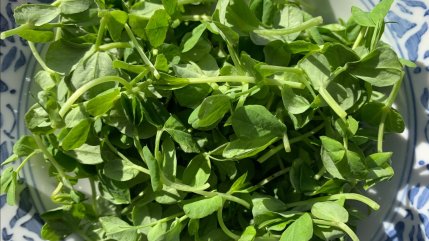 A gentle reminder that membership in our Summer CSA – starting mid-May – beckoning!
We're celebrating St. Patricks Day with lots of GREENS this week ???? In the share you'll find a bag of sweet pea microgreens. Plus not just one, but two kinds of raab – the frilly one is kale and smooth stems are collards. Cook the stems, leaves, buds and all – they are tender, tasty and delicious.
I announced on instagram yesterday that I was sure we'd have PSB (aka Purple Sprouting Broccoli) in the share today, but my estimations were definitely off. There are so many plants out there in the field, but the harvest has continued to just trickle in. At some point soon we'll have an avalanche of broccoli but that did not happen today. In farming I'm constantly reminded that "no plan survives contact with Mother Nature" or something like that 🙂
Here are some highlights from today's CSA box…
Pea Microgreens are an amazing little treat this time of year! With all the wild weather we've been having, I wasn't sure they would be ready in time for the pickup. Saruh was watching over them at Grand Island and her careful management helped them pull through right on time. Sprinkle a few on salad, soup or sandwiches. They add a fresh & delicious sparkle to any dish.
Leeks are not a vegetable I grew up with, but I've come to adore the delicious depth of flavor they add to everything this time of year. I made a variation on this Leeks & Greens in Coconut Milk last night with some turmeric and a little chicken which was amazing! I'm also a fan of this Onion & Squash Gallette made with leeks. For more tips & tricks with leeks and over 3 dozen recipes, check out the Cook With What You Have website (member access is included in our CSA, btw!)/
SOME OF THE YUM IN THIS WEEK'S SHARE:
????????
CARROTS
WINTER RADISH
SUGARLOAF CHICORY
ROSSO DI LUCCA BEANS
PURPLE SPROUTING BROCCOLI
YELLOW BINTJE POTATOES
WINTER SWEET SQUASH
COLLARD GREENS
RED SHALLOTS
LEEKS
Does this sound delicious, but you're not a shareholder? That's an easy problem to solve! Come on board for our amazing Winter/Spring CSA on a prorated basis at one of our two pickup locations (SE Portland or Lake Oswego) and take home fresh, local, sustainably-farmed produce like this every other week!