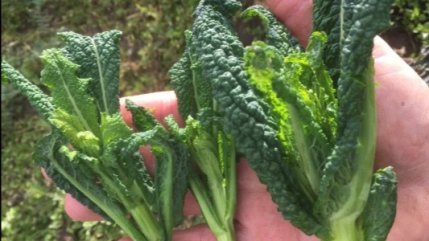 First, a quick announcement that membership in our Summer CSA is now open for sale! Even better, if you sign up before Feb 25th, you'll lock in last year's Summer CSA prices before we have to raise them.
The sunny weather last week was such a spring tease! It's not uncommon in the Willamette Valley to have some dry days in Jan or Feb, but we all know it's likely to go back to rainy winter weather soon. And we hope it does, since we definitely need more snowpack in the mountains to recharge the aquifers across the state. In the break, we were able to get a few fields disked in preparation of sugar snap pea planting. Plus the sunshine also encouraged some of our biennial brassicas to start sprouting — hence the kale tops in the share today. It also means we'll likely have Purple Sprouting Broccoli in the next share : )
Here are some highlights from today's CSA box…
Yes, you can eat popcorn on the cob too! Or at least you can pop it on the cob : ) If you want to leave it whole – just put the ear into a brown bag and microwave on high heat for 3 min max. Any longer and you risk catching it on fire which is not good. If you want to take it off the cob – use your fingernail to get the first kernels started then rub the rest of them off and pop it using your favorite recipe. This variety is from the late 1800's and was preserved by the Pennsylvania Dutch. We were introduced to it by the inimitable Anthony and Carol Boutard of Ayers Creek Farm in Gaston, OR.
We are so lucky to be able to grow these amazing winter cabbages!! I know that some people think of cabbage as a boring vegetable, but there are only a few exceptional varieties that will grow for us in the winter and be ready to harvest in February & March. Early in my farming career, we had to order the seeds from Europe! American seed companies thought the market was too small so they decided not to carry them. Happily, that has changed and with so much interest in winter farming many of our favorite seed companies keep them in stock. Lots of recipes for cabbage – including Caldo Verde – at Cook With What You Have, free if you're a member of our CSA.
The Chioggia Radicchio is one of the last chicory varieties of the winter. Try it in this Hearty Salad or carmelized with beans or greens. Want to learn more about all things chicory? Check out this Radicchio Zine (PDF) from our friends at the Culinary Breeding Network. It includes much history, trivia and my favorite radicchio salad recipe Insalata Nostrana (pg 20).
SOME OF THE SUBLIME IN THIS WEEK'S SHARE:
????????
CARROTS
WINTER CABBAGE
BUTTERNUT OR TETSU
AMISH BUTTER POPCORN
BABY YELLOW ONIONSv
CHIOGGIA RADICCHIO
TUSCAN KALE TOPS
CELERIAC
LEEKS
Does this sound delicious, but you're not a shareholder? That's an easy problem to solve! Come on board for our amazing Winter/Spring CSA on a prorated basis at one of our two pickup locations (SE Portland or Lake Oswego) and take home fresh, local, sustainably-farmed produce like this every other week!