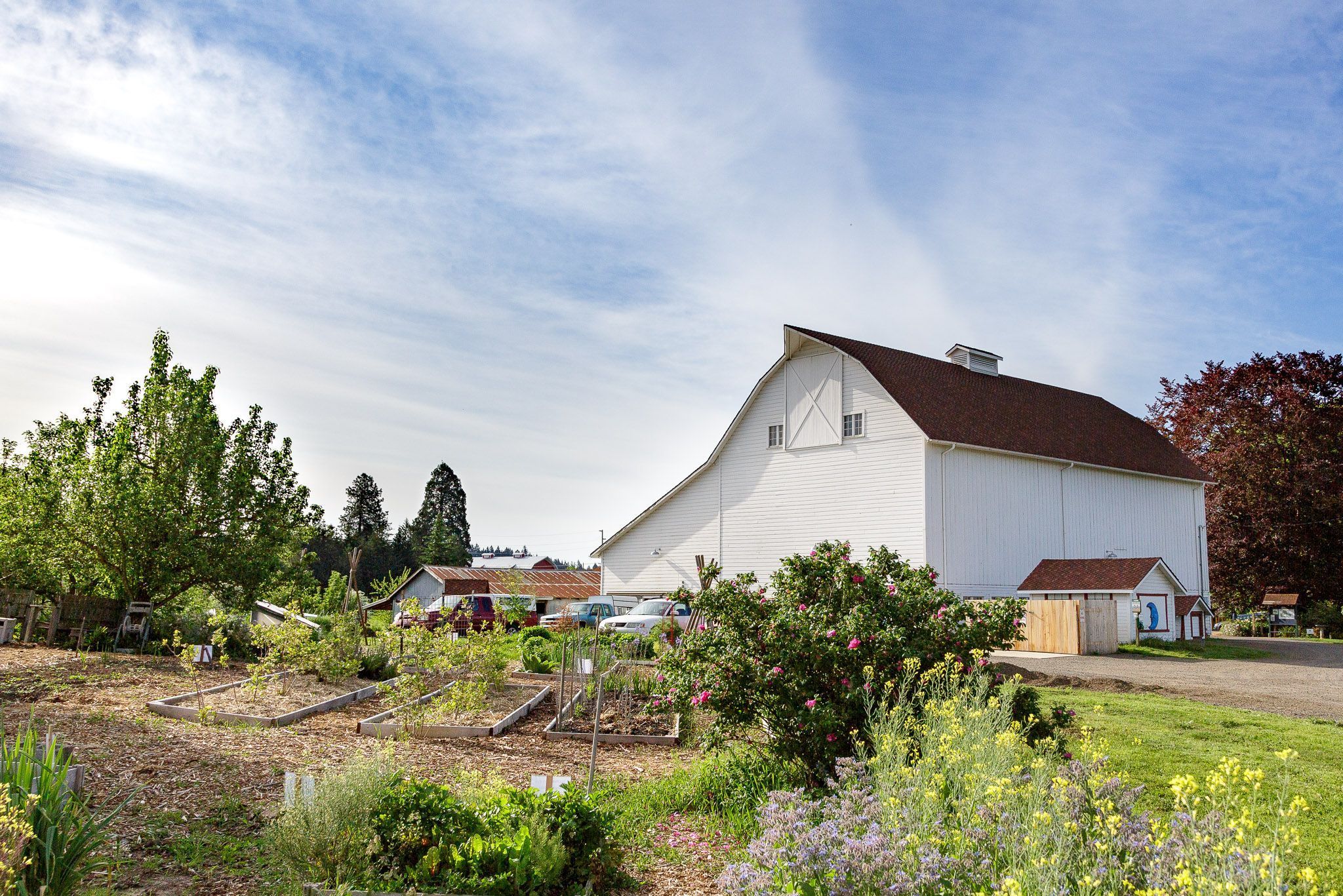 A
joint venture between us and Lake Oswego Parks and Recreation, our Luscher Farm Community Supported Agriculture (CSA) project started up in 2005. It's located in and around the historic gambrel-roof dairy barn (pictured at right) at 125 Rosemont Rd., just east of Stafford Rd. Given how long this site has been under till – it was originally claimed by Jesse & Nancy Bullock in 1866 – it's an inspiring location for us to farm.
And you can be a part of it! Ordering a Luscher Farm CSA share full of fresh, delicious and locally farmed vegetables is easy, and we have options to suit a range of budgets and appetites…
Join us for the entire season as a CSA farm share member;
If the season's already started, then join us for a Pro-Rated CSA Share.
If you've been wanting to give our CSA a trial run before signing up for a whole season then look for our single-pickup CSA Sampler Try It Out shares (the equivalent of our regular half share) when they pop up! (Psst: it also makes a great gift)
You'll need to choose which share size works best for you:
Whole Share – Every household is different, but in our experience, this share will provide most of the vegetables needed to feed a family of four. Summer 2023: $60.42/week
Half Share – This is for smaller households. Summer 2023: $33.13/week
Try It Out – This is a single pickup of the half share size basket: $37/pickup.
To sign up for the Luscher Farm CSA, contact Lake Oswego Parks & Recreation…
Call 503-675-2549 OR SIGN UP ONLINE
(Note that there is a fee for signing up online. You can avoid the fee by calling Lake Oswego Parks & Rec directly to sign up at 503-675-2549.)
Once you've signed up and paid for your favorite CSA options then come on down to Luscher Farm at 125 Rosemont Ave, Lake Oswego on the appointed Thursday from 5-7pm. During the 2023 Summer CSA season, pickups are every Thursday, May 18th through October 26, 2023.
To learn more about the Lake Oswego Luscher Farm pickup location and CSA, download our Luscher Farm Summer 2023 CSA brochure and order form (PDF). And feel free to email us if you have any questions?
Hope you can join us for a beautiful & bountiful CSA season!
Included with every CSA membership
Coming right up for our Luscher Farm CSA: